The last few weeks, I and other church leaders around the globe have been scrambling to answer the question: In this time of the COVID-19 pandemic, can we still celebrate Easter on April 12? If so, can we also celebrate Eucharist?
I've heard varying responses from colleagues — some want to wait to celebrate Easter fully until their churches can meet in person again. Others are going ahead with both Easter and the Eucharist. Thankfully, I work and worship in a denomination that, for better or worse, allows congregations to discern for themselves how to answer questions like these.
Disclaimer: I've felt from the start that we're going to need to celebrate Easter, regardless of the pandemic. And celebrating Eucharist is a critical part of celebrating Easter. So, I set my sights on Madison Mennonite celebrating Easter and Eucharist, however much we could, on April 12. But I continued to ponder this dilemma, wondering if our lives are too fundamentally altered by social distancing and isolating to fully enter into the Easter story. Do we miss the meaning of Eucharist if we are physically separated?
So I sat down and re-read the gospel text for Sunday. There were some hints there that pointed to, "yes, we can celebrate Easter and Eucharist."* Easter is, among many things, God's defeat over death and violence. We can still celebrate that fully, even in our virtual gatherings. But Eucharist? For that, I read a bit further and was finally convinced that the chaos that led the disciples to shelter-in-place mirrors the chaos of our own pandemic quarantines–chaos into which Christ still shows up. What's more, our current reality could actually lend itself to a deeper, transformational understanding of the Eucharist than we've known before.
In John 20:19-23, we read that Jesus, in his resurrected power, is not deterred by locked doors. The doors, whether locked because of fear or because of quarantines, are no match for the impulse of the resurrection. John writes in 20:19-20, "When it was evening on that day, the first day of the week, and the doors of the house where the disciples had met were locked for fear of the Jews, Jesus came and stood among them and said, "Peace be with you."After he said this, he showed them his hands and his side. Then the disciples rejoiced when they saw the Lord."
Even when our doors are shut tight, whether from fear or out of love for our neighbors, Christ shows up where we are at and extends his peace to us. This undeniably points us to the "yes" of celebrating Easter and Eucharist together. At Madison Mennonite, we already celebrate an open table, proclaiming that the thanksgiving feast is for all who want to draw near to Christ. Now, in the resurrection, when Christ draws near to us, isolated though we are, should we refuse him and deny his presence? Ask him if he didn't see the sign to "keep out"? Just as we resist policing the Eucharist, we proclaim, even in these strange times, that the Table is not made holy by the building we celebrate it in, nor that the Table itself is singular and particular. Yes, it is more joyous to celebrate Eucharist in the company of others, and we will do this, as far as it is possible, on Easter at Madison Mennonite; yet this Sunday, instead of gathering around one table in our sanctuary, I celebrate that every table in the homes of Madison Mennonites will become an altar, a testament to the God whose shalom-filled love can be found anywhere.
"Where two or three are gathered" in Christ's name includes our virtual gatherings where folks meet around screens and fumble to mute and unmute. It includes our messy kitchen tables with juice splatters and cracker crumbs. It includes all of creation, springing alive and singing new songs. Thanks be to God!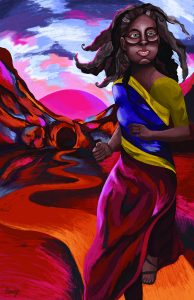 ---
*The earlier readings of John 20:1-18 shore up the argument of this post. First, there is, of course, the confusion and disorientation of the empty tomb. While we don't typically equate our church sanctuaries with the tomb, this year is different. As many have already noted, to gather in-person in our churches on Easter could bring about unfortunate, heartbreaking, and unnecessary death. As hard and confusing as it is to not hold Easter in our beloved sanctuaries, this is the decision that leads to life — and, potentially, to new revelations.
Second, having seen the empty tomb, the "disciples returned to their homes." (John 20:10) Like the disciples of John's gospel, we will largely celebrate Easter this year at home, without the usual pleasures of family or community gatherings. Many of us will need to "wait" to understand what it means for Christ to be resurrected — both as we wait to celebrate being the Body of Christ together again and more broadly, as we encounter Jesus at different times in our lives and through various means.
Third, like Mary Magdalene, we are invited to remain present to the disorientation of the empty tomb, listening for the voice of the Gardener. I am struck again and again at the intimacy of the moments in John where Jesus speaks one-on-one with the women who love him. Perhaps this year, the invitation is to listen for the way the Gardener speaks to each one of us, unmediated by priests, pastors, or liturgists. In the Anabaptist tradition, we profess to believe that, through the Spirit, all are united directly with Christ and do not need a mediator. Can we trust this year that Christ speaks to us, personally if we stay present to listen?