As a part of Eastern Mennonite University's Academic Festival, I presented the following paper on Maundy Thursday. The scriptures for this paper are John 12:1-8 and John 13:1-17.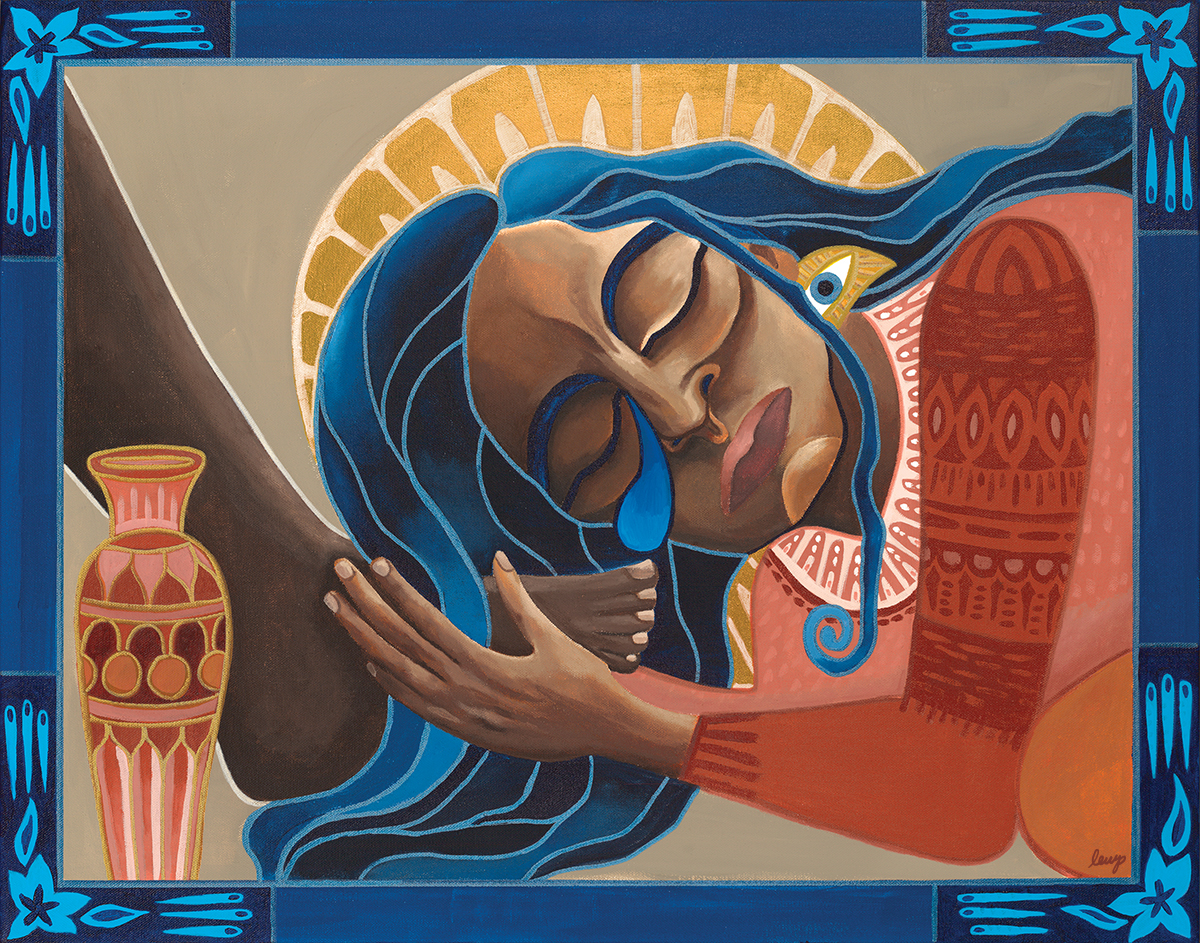 Today is Maundy Thursday or Holy Thursday – that day in the midst of Holy Week where we're not necessarily sure if we want to show up for worship at church or chapel…because we know what's supposed to happen on Maundy Thursday: footwashing.
I'm guessing if you're here, you knew something about that possibility. Maybe what surprised you was the reading – or rather, re-reading – the scripture from John 12 that was the lectionary text a few weeks back and is not typically read on Maundy Thursday.
My cheeky explanation for this double-reading of John would be: Behind every man's "great idea" is a woman rolling her eyes…because she had the idea first…
But really, the goal of this presentation is two-fold:
First, to consider the way John 12 sets the stage for John 13, finding undeniable links between them by paying attention to the sensory-rich narratives.[1]
The second goal is to argue that the feasting and footwashing of Maundy Thursday promote a hermeneutical community where rituals are shaped by the interpretive embodiment of all believers.
We'll begin with the sensory parallels. I'll start with taste.
In John 12:1-2, Jesus is coming to Bethany to the home of Mary, Martha, and Lazarus. Lazarus [bless his heart] is smelling a bit fresher than he had been the last time Jesus was in town,[2] and so a feast is set out for Jesus. The text reads that at this meal, "Martha served, and Lazarus was one of those at the table with him."[3] We don't know too much about the meal or what was served, but we know it is in the context of celebration. Most of the action of this story will happen, seemingly, in the midst of a dinner party.
Switching to John 13 verse 2, "And during supper Jesus, knowing that the Father had given all things into his hands, and that he had come from God and was going to God, got up from the table…" Again we don't know much about the details of this Passover meal, but it is, again, a festive time. What is important in both of these stories is that they are necessarily framed around a table. A time of fellowship and feasting. The path into any ritual, into sacred space, is often paved with food.
The second sense is sight. I want to draw our attention to how these two scriptures invite us to look around to see that both are gatherings of Jesus' beloved ones.
Backtracking to John 11:5, we learn, and this is a first its kind of mention in the gospel, that "Jesus loved Martha and her sister and Lazarus…"[4] So gathering for a meal with them, as they do in John 12, would certainly be punctuated by knowing looks and smiling eyes – a meal full of those moments where you look around the table and think to yourself, "I love that person. I love that person." And so on.
Then in 13:1, John writes, "Having loved his own who were in the world, he loved them to the end."[5] Jesus' love is conveyed here in the actions and teachings, and of course, later in John 13, Jesus gives a new commandment – to love as Jesus loved.
The writer of John indicates that at both meals, there is deep intimacy and trust. Using our senses, we are invited to enter into these rituals deeply seeing one another, and, if possible, deeply loving one another. Rituals are meant to deepen love. To offer healing. To make the journey more bearable.
Third is hearing. In both chapter 12 and 13, we hear Jesus' words. That's not particularly special. Rather, the connection between the narratives is that Jesus responds to misguided indignation.
Judas, appalled by the liquid gold being spilled out onto Jesus' feet, erupts with resentment. "How could she pour out this vast amount of fine oil? Why didn't she sell it? …the money could have been given to the poor."[6] ("…or to me…") Jesus responds, "Leave her alone. The poor's not who you are concerned about anyway."[7]
Or in chapter 13, poor Simon Peter, in a huff, goes on and on about how Jesus is doing a strange thing. Three times, Jesus responds calmly to the indignation. "Peter, later you will understand. Peter, I must wash your feet. Peter, just your feet will do."[8]
The Divine Voice knows our indignation well; our refusal to show up at the table, our unease at being served by the Master. Yet, if we listen, we may hear a compassionate response.
Fourth is the parallel of smell.
"Jesus poured water into a basin and began to wash the disciples' feet…" (13:5) The room is full of bodies likely less frequently bathed than the modern Western person. Feet, once sweaty and now crusty with dust and sand, are exposed. It is a normal odor, and there is a lot of it.
Mary comes in with a jar of nard, and drizzles on Jesus' feet. "The house was filled with the fragrance of the perfume." (12:3b) It is an unexpected odor for this occasion, and there is a lot of it.
Research shows that the sense of smell, perhaps more so than the other senses, is closely linked with memory.[9] Before we take the bread or the wine, let's smell it. Smell this in "remembrance of me." As you take a friend's hands or feet out of the water, pay attention to the smell of lavender essential oils wafting into the room. Remember the nameless marginalized people who point the way to Jesus, like the woman, who in Mark 14, anoints Jesus. "Wherever the gospel is proclaimed in the whole world, what they have done will be told in remembrance of them." (Mark 14:9)
Lastly, touch. There is surprising touch in both texts.
The Greek verb ekmasso, "to wipe," is used three times in John, twice in reference to Mary's actions wherein she wipes Jesus' feet with her hair; and once in reference to Jesus' actions in wiping the feet of the disciples with a towel. The only other time that this verb is used in the New Testament is in Luke 7, where an unnamed woman similarly wipes Jesus' feet with her hair.
There is great tenderness in these touches; it is not aggressive, violent, or used to show power over. It is gentle, the act of a servant. As Ingrid Rosa Kitzberger writes, "In both meal scenes, the unusual action is a symbolic act full of meaning, and both times it involves the feet of the recipients."[10]
We cannot enter into ritual disembodied. There is always touch: between people, between people and the earth, between people and the elements.
Taste, sight, hearing, smell, and touch: I hope it's clear, at this point, that Mary's demonstrations in chapter 12 set the stage for Jesus' actions in John 13.[11] And fundamental to this parallel is that bodies and their sensuality are crucial to telling the stories, to presence in the rituals, and in communing with the Divine.
This brings me to my second point: that feasting and footwashing not only invite radical fellowship; they also attend to our sensuality, and so we press for the radical embodiment of all believers.
Anabaptists have this thing we call the hermeneutical community. Lydia Neufeld Harder defines the hermeneutical community as "an approach in which conscious commitment to a community of reference and accountability accompanies an openness to dialogue and critique."[12] For Anabaptists, this "conscious commitment" is directly related to the foundational place of scripture for the church. Discernment of scripture is necessarily both dynamic and communal – meaning that authoritative interpretations require an awareness of the particular context where interpretation is happening (dynamic), and that individual interpretations are only acceptable when brought to the faith community for further engagement.[13] Harder connects the idea of the priesthood of all believers to the discernment of scripture, writing, "All participants in the community must have the same opportunity to initiate and be involved in the discussion. They must have the same chance to express attitudes, ideas, and feelings."[14]
In other words, Anabaptists think that we need one another to do scriptural interpretation and every committed member should have an equal voice in that interpretation.
The next step though, that I am encouraging, given our texts this Maundy Thursday, is to explicitly recognize that interpretation doesn't stop in our heads and our mouths. We believe that faithful discipleship affects our ethics. John 12 and 13 strongly suggest that we pay attention to the way our bodies interpret scripture through ritual.
The priesthood of all believers remains a central tenet of our faith; the embodiment of all believers is where the priesthood of all believers finds its feet.
Karl Koop writes, "Making sense of the faith is not simply an intellectual activity for spectators; neither can it be carried out on the basis of some disembodied, ahistorical principles. It demands that interpreters themselves be participants…"[15]
The invitation this morning is to join in the cosmic experiment with the Divine, placing ourselves and our bodies in the stories of the holy scripture. What Mary intuited at that celebratory meal was that she could not sit still in the kitchen or even at the table. She took her body and placed it at the feet of Christ.
I like to imagine, then, when it was all over, Jesus was thinking about it and what Mary had done, and he said to himself, "I've got this great idea…"
And thus we have a weird holiday, where we at least try to submit ourselves to one another and try to have a relatively pleasant meal together, where we take our shoes off and our socks,
We can't do Maundy Thursday without our bodies. And that can be petrifying. And yet, this is the form that Jesus took. And these bodies are part of what God so dearly loves about the world that God gave their only child.
Join us, if the Spirit leads, for this experiment in a full-bodied encounter with the Divine.
——
[1] I rely on the inspiration found in Dominika A. Kurek-Chomycz. "The Fragrance of Her Perfume: The Significance of Sense Imagery in John's Account of the Anointing in Bethany." Novum Testamentum 52 (2010), 334-354.
[2] Kurek-Chomycz. 341.
[3] Scripture quoted is from the New Revised Standard Version, unless otherwise noted.
[4] The "disciple that Jesus loved" is mentioned for the first time later in John 13:23.
[5] For more, see Levine, Vol. 1, 182.
[6] Scripture here is from The Voice Bible paraphrase.
[7] My paraphrased interpretation of the text.
[8] Again, my paraphrased interpretation of the text.
[9] http://www.fifthsense.org.uk/psychology-and-smell/
[10] Ingrid Rosa Kitzberger, "Transcending Gender Boundaries," in A Feminist Companion to John: Vol. 2, Jill-Amy Levine, ed. (Cleveland: The Pilgrim Press, 2003, 173-207), 186.
[11] Amy-Jill Levine, ed. with Marianne Blickenstaff, A Feminist Companion to John: Vol. 1 (Cleveland: The Pilgrim Press, 2003), 92
[12]. Lydia Neufeld Harder, The Challenge is in the Naming: A Theological Journey (Eugene, Oregon: Wipf & Stock, 2018), 50.
[13]. Harder, 51.
[14]. Harder, 58.
[15]. Karl Koop, "Scripture and Tradition: A dilemma for Protestants," Vision 6, no. 1 (Spring 2005): 20, accessed December 9, 2018, http://press.palni.org/ojs/index.php/vision/issue/view/6-1/6-1.